About Us
Flowers cause delight, let us share our love of flowers with you...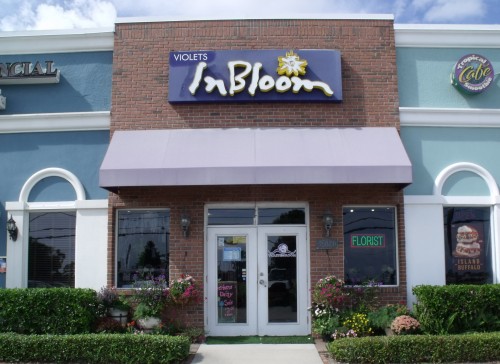 Flowers from VIOLETS IN BLOOM will make any occasion special.
Violets In Bloom believes that flowers make a difference and are the perfect gift to celebrate life. They bring joy, the perfect thing to represent the emotions you are trying to send. Our designers are all truly passionate about flowers and have seen first hand the delight that flowers bring people and we work tirelessly to make each gift truly special. we work hard to make sure that we have the best selection of unique blooms and follow the most current research to give you the best possible vase life so that your flowers can have the best impact possible. We are a professional local florist proudly serving Melbourne Florida and the surrounding areas including Viera, Rockledge, West Melbourne and the Beaches. Our friendly and knowledgeable staff is ready to assist you when you need flowers for pick up, delivered locally, or anywhere in the world.
So what do we carry?We are prissy about what we carry. We are not trying to be all things to all people. We only carry the most awesome blooms. If big box stores carry it we do not. Yes our flowers are a bit more than some other places, but they are absolutely premium. Roses are way bigger and last longer, we have stuff no one else in town has. But if you are looking for something cheap that you saw on a national website and want us to price match you are out of luck, we don't do mass market stuff. It also means we don't carry every bloom in every color. Our availabilty changes constantly (even sometimes during the day) and we source only premium flowers and plants. So when you choose a design on our website you are choosing an inspiration picture for our designers to use as a guide. Your design will be different (often better) than the picture in most cases as the exact flowers may be different. We strive to make it as close as possible especially in size, color, and overall feel.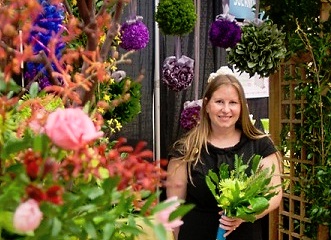 Violets In Bloom is a contemporary Melbourne florist with a huge selection of loose flowers for DIY and a fabulous team of floral designers who design custom arrangements for homes, businesses and all occasions and are known best for our wedding work and unique flowers.
Owner, Christina Brown has a natural love of plants. Even as a child she had a flower garden she planted and tended with love. Later that passion led her to get her Batchelors in Horticulture from the University of Florida and to become a Florida State Florist Master Designer. Owning a flower shop fulfills her life long dream of owning a business that allows her to share her love of plants and flowers. She also speaks at local garden clubs and love to chat with cusomers about plants.
So we aren't content with the ordinarary. We buy some of the coolest flowers we can find every week. That means you can have the coolest flowrs in your arrangements! Our wholesaler knows we like unusual stuff so they set us up with some direct buying opportunities (they handle the shipping part) so we can try out new and unusal varieties and types of flowers. We test them out to make sure they have a great vase life (because if they don't last, they don't meet our standard, we don't want anyone disapponted in their flowers) before we will sell them to our customers. If they pass our tests and our customers like them we give that feedback to our local wholesaler so they can start carrying those new varieties for our other florist friends. We are committed to raising up our whole industry, but we do like to have the best and new stuff first!!
Our Guarantee: for retail arrangements we want you to love your flowers!! If you or the recipient doesn't like their flowers for any reason--the colors, the types of flowers, the style, or the quality--we offer a 48 hour exchange guarantee and are happy to exchange the flowers for an arrangement more to their liking.
We don't have to change out flowers often but please, please, please let us know if you are unhappy in any way with your arrangement so we have the opportunity to correct it.
We are members of the Melbourne Regional Chamber, Society of American Florists, Florida State Florists Association, and we the only florist in Melbourne to have a Florida Professional Certified Florist and Florida State Master Designer certifications.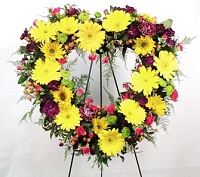 Sympathy Tributes and Funeral Flowers
You can always depend on our courteous staff to help you with ordering flowers for the funeral of a friend or loved one.
We will design and deliver a funeral arrangement that beautifully conveys your expression of sympathy and serves as a lovely memorial to the deceased.
We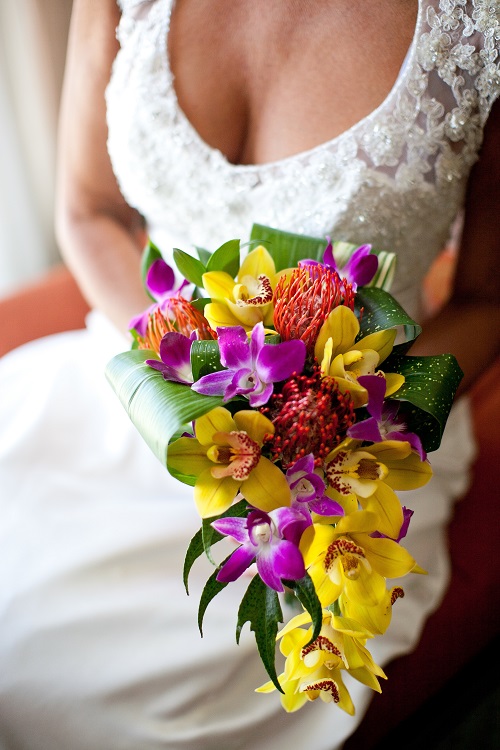 dding Flowers and Special Events
Order custom, one-of-a-kind Wedding Flowers and Party Flowers from VIOLETS IN BLOOM. We will ensure your special day fabulous!
We are number one in our area on the Knot and Wedding Wire and are on the preferred vendor list for just about every venue in our area. Our staff is very experienced in wedding flowers and we provide florals for about 150 weddings a year. We strive to provide unique designs to compliment each client's budget and style preferences. We've done over 1500 weddings on the Space Coast.
Call us in advance at 321-242-3360 or email us at wedding@violetsinbloomflorist.com to set up an appointment for a consultation.
Beautiful House Plants

We carry an ever changing variety of house plants so stop in or call to see what we have. Sometimes we have really unusual or popular plants like string of pearls, monstera, etc and sometimes the very ordinary but classically easy like Peace Lily and Aglaonema. Our selections vary widely throughout the year depending on what our favorite nursery is carrying.

We invite you to stop by our showroom to see what's new and choose from our selection of gifts for any age or occasion:
Call or visit us today… we look forward to meeting you! Thank you for visiting our website for flowers delivered fresh from a local Melbourne, FL florist and easy online ordering available 24 hours a day. We are right across from the King Center on Wickham Rd, in the same plaza as Running Zone, Bizzaros, and Tropical Smoothie.